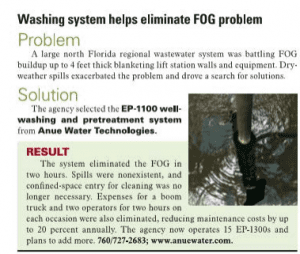 Washing System Helps Eliminate FOG Problem
Problem
A large north Florida regional wastewater system was battling fog buildup up to 4 feet thick blanketing lift station walls and equipment. Dry-weather spills exacerbated the problem and drove a search for solutions.
Solution
The agency selected the EP-1100 well-washing and pretreatment system from Anue water Technologies.
Result
The system eliminated the FOG in two hours. Spills were nonexistent, and confined-space entry for cleaning was no longer necessary. Expenses for a boom truck and two operators for two hours on each occasion were also eliminated, reducing maintenance costs by up to 20 percent annually. The agency now operates 15 EP-1300s and plans to add more. 760/727-2683; www.anuewater.com.