ODOR CONTROL
Please see application video below.
Eliminates Broad Spectrum of Odors

Low CapEx and OpEx

Proven Use in Many Existing Applications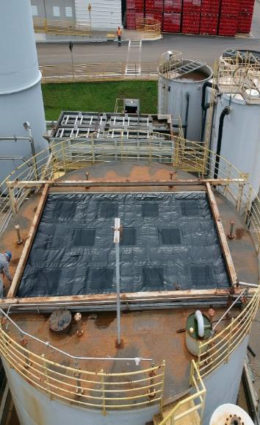 Highly Customizable to Fit Practically any Shape or Size

Patented, Made in the USA
Wastewater Odor Control System Covers That Breathe
Anue Water Technologies' Engineered Odor Control System (EOCS) provides breathable designs with carbon-infused filters that trap odorous compounds from openings of any size. This odor control system for wastewater features patented technology and custom-designed Geomembrane Covers with integrated odor control filters to reduce odor emissions and eliminate H2S. These covers can be used passively or with an exhaust system, and their breathable design makes them suitable for most climates. As a result, they provide ideal solutions for odor control in wastewater treatment plants.
Flexible & Easy to Use Odor Control System for Wastewater
The membrane is supported by a cable grid and batten bars above the surface, making it unaffected by aeration, changing water levels, foaming, bacteria, and other common issues. This allows for installation even in the toughest of locations. Custom access and viewing ports allow for uninterrupted maintenance.
The Engineered Odor Control System Series offers a 1-year warranty against any manufacturing defects. The membrane has an expected lifetime of over 10 years even in harsh environments. The engineered carbon-infused filter inserts last 9 to 18 months depending on emissions levels.
Features
Exceptional Odor Reduction
Low CapEx and OpEx
Green: No Power Required
UV Resistant
Chemical Resistant
Chemical-Free
Easy Operation and Maintenance
Wastewater Odor Control Equipment In Action
Here are the results of using Anue Water Technologies' Geomembrane Covers with carbon-infused filter inserts.
EOCS Membrane (without filters)
Weight
1015 g/m² (0.21 lb/ft)
Thickness
0.76 mm (1/32")
Tear Strength
245 N (55 lb) min.
Breaking Yield Strength
2448 N (550 lb) min
Puncture Resistance
1550 N (350 lb) min.
Temperature Resistance

-34°C to 100°C

(-29°F to 212°F)
EOCS Membrane with Anue Inserts
Weight
1500 g/m² (~0.31 lb/ft²)
Wet-weight (H2O)
< 4500 g/m² (<107 lb/ft²)
Thickness
20 mm (13/16")
Carbon Content
≥ 900 g/m² (≥0.19 lb/ft²)
Resistance (Pa)
< 25
Temperature Resistance

-35°C to 85°C

(-31°F to 185°F)
The carbon-infused filter design is engineered to allow gases and water to freely flow through the filters while they capture odor-causing contaminants. Gas-specific filters for H2S and NH3 can be combined in the system for optimum control, even under grates and manhole covers.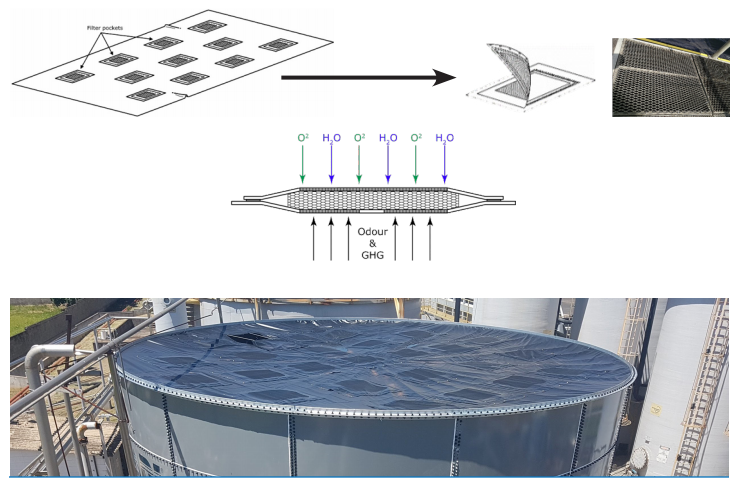 Geomembrane Manhole Cover Inserts
Anue Water Technologies' Engineered Odor Control System technology offers superior municipal wastewater odor control for even the toughest manholes. This unique Geomembrane Manhole Covers (GeMM) system offers a perfect frame fitted with a patented GeMM odor insert capable of removing odor in the most difficult environments.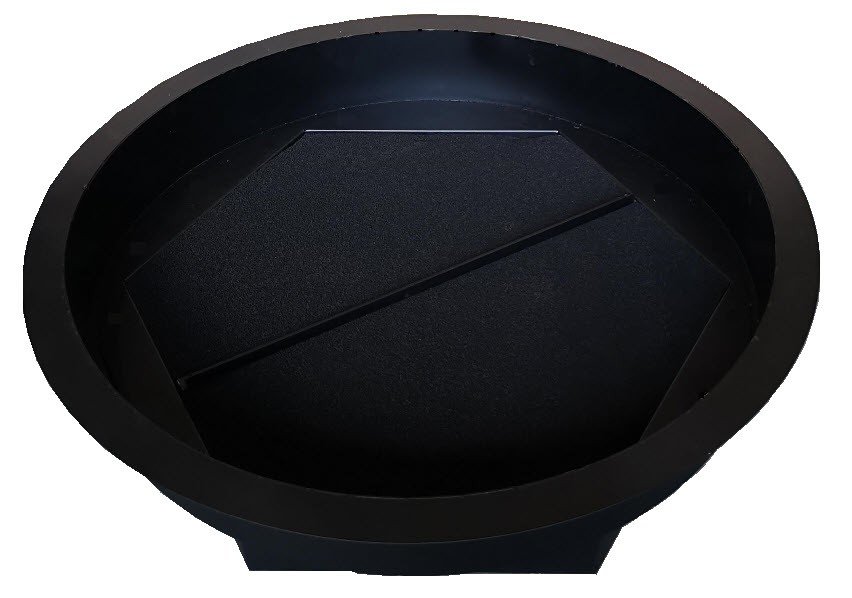 Features
Exceptional Odor Control
Easy to Install
High H2S Tolerance
Chemical-Free
Low Maintenance
GeMM inserts and their frames come in a variety of standard sizes and are customizable to the most challenging applications. The EOCS GeMM inserts last an average of 9 to 18 months depending on emissions levels.
Carbon-infused filters are a sponge-like medium impregnated with odor collecting substance.
Air flows freely through the filters allowing the system to breathe while capturing odor.
Rainwater does not wash away their odor-capturing ability.