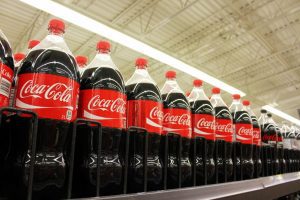 Credit: Water Technology Magazine 
Water Technology published an article online outlining how Coca-Cola franchisee, Coco-FEMSA, used Anue wastewater odor control technologies to solve multiple issues at its bottling plant in Marília. By installing Anue Water Technologies Geomembrane Covers, the facility was able to eliminate harsh odors, enhance safety measures, and reduce their operational costs.   
Here is an excerpt from that article. 
When 
Wastewater Odor Control
 Becomes a Problem 
With its wastewater facility located near a hotel, Coco-FEMSA Marília began receiving complaints regarding unpleasant odors that were permeating from its bottling plant. This, paired with the plant manager's desire to find odor control solutions that would cut costs and improve safety measures, led the facility to act. 
After speaking with the Coca-Cola FEMSA office in Mexico City, the Marília plant manager learned that other bottling facilities had experienced similar odor control issues and used Anue Geomembrane Covers to solve them. As a result, the plant manager installed the Geomembrane Covers over two of the reactors at their facility.  
Geomembrane Covers Provide Excellent Wastewater Odor Control Solutions
Despite the previous use of rigid covers and costly chemicals to eliminate odors, the Coco-FEMSA bottling plant in Marília was still struggling with wastewater odor control and needed immediate relief. As a result, they installed Anue Geomembrane Covers over their reactors. The plant manager also placed the Geomembrane Covers over their newly built homogenized steel tanks for additional odor control support. 
Featuring carbon-infused filters that are built to cover openings of virtually any size, the Anue Geomembrane Covers were able to provide a strong sealing over the reactors to navigate gases through the porous filters. Made to be breathable, these filters allowed water and gasses including ammonia (NH3) and hydrogen sulfide (H2S) to pass while capturing contaminants that were producing the unpleasant odors. This not only helped to provide effective wastewater odor control, but it also prevented the gases from pressurizing, which stopped dangerous build-up and greatly enhanced safety measures at the facility.  
The Advantages of Using Anue Geomembrane Covers
Coco-FEMSA Marília experienced several other benefits after installing Anue Geomembrane Covers at its bottling plant. With its superior functionality, Anue Geomembrane Covers eliminated the need for multiple pumps and pipes that were previously used by the facility. This not only saved physical space, but also reduced maintenance efforts, which drove down labor costs.   
The use of Anue Geomembrane Covers also ended the need for the facility to continue purchasing odor-reducing chemicals. And since the installation of Anue Geomembrane Covers is much more cost-effective compared to the expense of purchasing chemicals, the bottling plant saw a huge return on investment.  
Continue reading the feature article about how Anue Geomembrane Covers provide effective wastewater odor control solutions. 
Invest in
Wastewater Odor Control
Technologies Today
With Anue Water Technologies Geomembrane Covers, you can eliminate harsh odors, enhance safety measures, and reduce costs to ensure the operations at your facility run smoothly. 
To learn additional information about our Geomembrane Covers and other wastewater odor control technologies, contact us today.