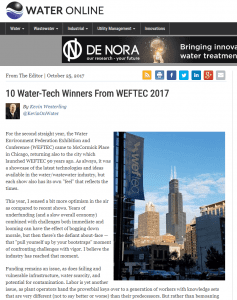 For the second straight year, the Water Environment Federation Exhibition and Conference (WEFTEC) came to McCormick Place in Chicago, returning also to the city which launched WEFTEC 90 years ago. As always, it was a showcase of the latest technologies and ideas available in the water/wastewater industry, but each show also has its own "feel" that reflects the times.
This year, I sensed a bit more optimism in the air as compared to recent shows. Years of underfunding (and a slow overall economy) combined with challenges both immediate and looming can have the effect of bogging down morale, but then there's the defiant about-face — that "pull yourself up by your bootstraps" moment of confronting challenges with vigor. I believe the industry has reached that moment.
Funding remains an issue, as does failing and vulnerable infrastructure, water scarcity, and potential for contamination. Labor is yet another issue, as plant operators hand the proverbial keys over to a generation of workers with knowledge sets that are very different (not to say better or worse) than their predecessors. But rather than bemoaning the changes and challenges, the industry is rallying around solutions, including technologies geared toward energy efficiency, resource recovery, and automation — all of which are necessities for the times ahead, finally being recognized as such.
Here are a few of the technologies from WEFTEC that I found to be impressive and important for keeping utilities a step ahead of our collective industry challenges.\